---

Bill Slater's
Andreas Vollenweider Page



Bill Slater Welcomed Andreas Vollenweider
to his 1998 United States Tour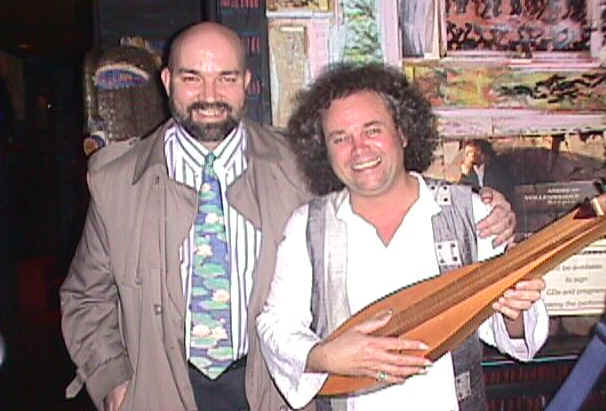 Andreas Vollenweider and Bill Slater in Chicago on October 19, 1998
Andreas gratefully receives his very first Mountain Dulcimer!!!
And this dear friends, was one of the happiest moments of my life!!!
You see, Andreas is the creator of my favorite music and a wonderful person.

(photo by John Owrey)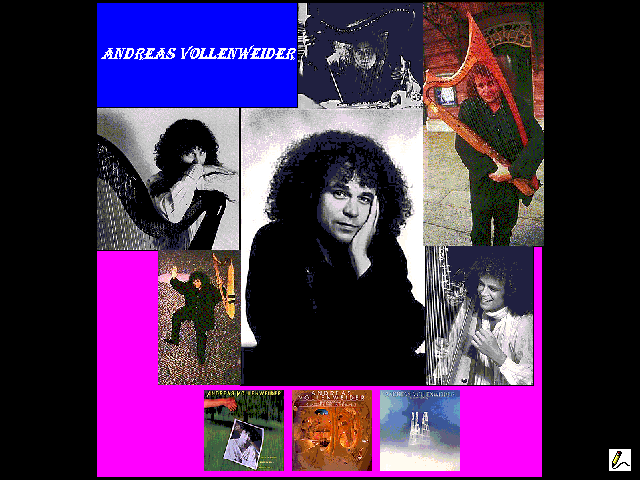 *** Special Notice ***
Andreas was in the U.S. in October 2005 for a brief promotional tour in Apple Music Stores.
Check the schedule below for Dates, Times, and Locations.
AV at US-APPLE STORES for special event!
In the first weeks of October 2005, Andreas Vollenweider was on a promotional tour in the US. Besides radio and press work, he and his percussionist Andi Pupato will be presenting a special show/workshop, in APPLES series "Made of a Mac". Besides special musical treats, AV will reflect on "technology in the creative workflow" and his personal experience in this field.


Oct. 1 - Apple Store, White Plains NY, Westchester Mall, 125 Westchester Ave. 1pm
Oct. 3 - Chicago, IL Apple Store, 679 North Michigan Ave. - 7pm
Oct. 5 - Portland, OR, Apple Store, Pioneer Place Mall, 700 SW 5th Ave. 7pm
Oct. 6 - San Francisco, CA, Apple Store 1 Stockton Street, 7pm
Oct. 7 - Los Angeles, CA, Apple Store The Grove, 189 The Grove Drive, 7:30 pm
The following is what I wrote in Ryan Taliercio's Andreas Online Fan Club Book. Please visit Ryan's wonderful Andreas Vollenweider Pages on the web at http://www.whyldflower.com/avaf/

"First I want to thank Ryan for providing a beautiful set of Andreas Vollenweider Pages, and everyone else who has shared their thoughts and experiences about Vollenweider Music on this page. It is a testament to the power of this music that it brings us together to share all these powerful, magical, mystical experiences we have had. I, too, am a very devoted fan of Andreas and his music. Since getting turned on to Vollenweider music in July 1985 (it was Caverna Magica) while visiting a friend in Virginia, my life has never been the same. As you listen to this ,music, each album (CD) creates a special, magical place in which you can concentrate and bask in warmth and safety, and yet have your own special adventure at the same time!!! Four walls of my home are decorated with art of Dancing with the Lion. One is the large print from the DWTL '89 tour, two are banners I had created from that artwork (one with black background, one with white background), and finally one is a neon version with the red circle and the white "soul path line" done in neon lighting, and a black plastic background. The entire neon sculpture is about a meter tall, and I will have it scanned in and share it here on Ryan's Andreas Circle Page. These art pieces in my home pay homage to this extraordinary music and this extraordinary individual. Two more things I wanted to share: the CD, Andreas Vollenweider Live - 1982 - 1994 is indeed available from German Music Express for about $31.00 plus shipping. Well worth the price for the fantastic music and feelings it delivers! The Andreas Vollenweider Live CD contains some of his finest work and is a MUST for any serious Vollenweider Music fan. And finally, I wanted to share the URL of my own Andreas Vollenweider Tribute Page which is at http://billslater.com/andreasv.htm . There, I have shared plenty of my feelings and ideas about Andreas' music, and there's even some cool pictures which you may want to "borrow" for your Windows desktop wallpaper. Anyway, I'd like to close with the statement that Andreas wrote on the cover of his Down to the Moon album: "Thanks to the hands and hearts which guard the source of this music." Amen!

-Bill
E-Mail:slater@xsite.net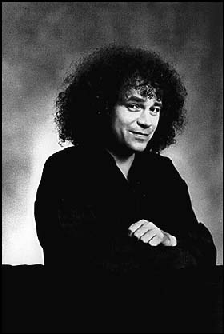 ---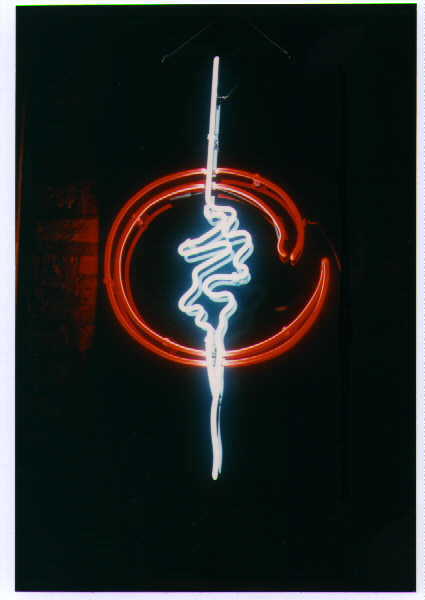 A "Dancing with the Lion" Sculpture I Commissioned To Be Done in Neon Lighting for My Apartment
---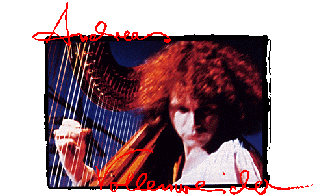 ---
Happy Birthday to Andreas!
Born October 4, 1953
Your Music Will Live Forever!
Who is Andreas Vollenweider?
See that little rotating planet below? Well, he's simply the greatest musician on that planet! He plays electro-acoustic harp (which he invented) and writes and performs the most magical music on the planet! When he is not touring and sharing his music around the world, he makes his home in Zurich, Switzerland.

---
Introduction
Hello, and welcome to my very own Andreas Vollenweider Tribute Page! I wrote most of these short articles about Andreas during my tenure at Digital Equipment Corp. and posted them in recreational Digital Notes conferences. But ever since I left Digital in March of 1994, I always wanted a way to share these articles on Andreas on a much broader basis because I believe that Andreas' audience, just like the WWW, transcends time, national, age, and cultural bondaries. Now that I have learned how to publish on the WWW, I decided to get these articles out, dust them off, and place them here for all to read. Fortunately, I was able to embellish this Andreas Vollenweider Tribute Page beyond my wildest dreams by including images from Andreas Official Home page which is located at: http://www.avaf.ch My friend in the Swiss Section of Cyberspace, Mr. Dominique Haussener, created an Andreas Vollenweider Tribute Page (which is excellent) and also manages the related pages and their contents. You can visit this Web site by clicking on the reference at the bottom of this page. Please forgive my enthusiasm and obvious gushing over my favorite composer/musician/performer. There has just never been any music which has affected me so. Thanks for your visit. I hope you enjoy this page!
---
New Album -- KRYPTOS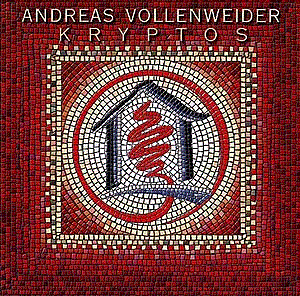 The long awaited new Vollenweider CD, Kryptos, was released in music stores throughout Europe on March 17, 1997. It was released in the U.S. on Sept. 16, 1998. A tour throughout the U.S. is already in progress.
I have owned Kryptos since March 1997 and I must say that it is one of Andreas' best and also one of his grandest projects.
In fact, there is a striking similarity between the style of the new material and the Ewok celebration music from the original version of ".Return of the Jedi". That music has changed in the Special Edition of "Return of the Jedi", but the music in the original version is the only thing I can compare the new Vollenweider msuic to. I do feel that all hard core Vollenweider music fans will love Kryptos because it skillfully and artfully casts its magical spell the same as any other Vollenweider music. Enjoy it when you can get your hands on it!!!
---
Effects of Andreas Vollenweider Music
Written by Bill Slater, Fall 1992
I finally figured out why I crave Vollenweider music so much. It is so pure, and positive, and powerful, that each time I listen, I go into a waking meditation state where time seems to stop or at least drastically slow down, and everything seems possible and magical. I never tire of the music or the places where my spirit soars off to when I listen to it. Nothing else in the world affects me this way.
I am convinced that Andreas is a very magical, positive person in this world, but I am not altogether sure he is from here. He may be from another realm, dimension, time, or planet. Why do I say this? Because his music is so visual, so powerful, and because I've never heard anything else like it. Nor do I ever hope to.
I have been a devoted fan of Andreas and his music since a magical evening in July 1985 when a good friend turned me on to this incredibile music.
---
Andreas Vollenweider & I
Written by Bill Slater, Spring 1990
Here is my story about getting introduced to Vollenweider and his music:
On a steamy evening in July 1985, I was visiting a friend named Claudia, in Richmond Virginia. I had flown to Virginia from Houston, Texas to take a 10 day vacation. Claudia was a brand new medical school graduate who was taking her first day off after working 30 long days in the emergency room. During my visit, we talked late into the night. About 10:30pm or so, she played the record, Caverna Magica, by Vollenweider. She had been playing other jazz records, but Caverna Magica got my attention within 30 seconds. At the end of the album, I begged her to play it again, saying that I had NEVER heard anything else like it. She did play it again, and I was hooked.
When I returned to Houston, I went out searching for Vollenweider albums. Since it was 1985, I could only find: BEHIND THE GARDENS, CAVERNA MAGICA, and WHITE WINDS. The more I listened, the more I was affected by the music and I realized that it creates a truly magical experience for me. In summer of 1986, I bought DOWN TO THE MOON when it was released. It was wonderful, particulary MOON DANCE, NIGHT FIRE DANCE, and THREE SILVER LADIES DANCE. I found myself getting deeper and deeper into the music. I moved to it, making up my own dances. I was learning to create my own little world, where time stopped and everything was magical. I was going through a divorce during this period and I realized that Vollenweider music has "healing properties" for those who would listen deeply, and I did. Later, in fall 1986, I moved close to Chicago, Illinois, and in a record shop I located the import, EINE ARTE SUITE. I liked it, but realized that as an early effort, it was very different from the works that followed. Still, it had a magical element to it...
In Fall 1987, I wrote Andreas Vollenweider. About 18 months later, I received a very personal letter and autographed picture from him. It was one of the greatest days of my life!
In April 1989, his DANCING WITH THE LION album came out. I loved it! Then I discovered he was going on tour to promote this album. I contacted some people in his management office and made arrangements to meet him. At first they resisted this - apparently knowing that MANY people are similarly affected by Vollenweider music. But when I told them he had written to me peronally, they became MUCH more responsive and arrange for me to get backstage passes for myself and my girlfriend at the time.
Meeting Vollenweider was truly the greatest moment up till that point in my entire life. I wouldn't have traded this opportunity to meet him, even for trip to the Moon. I found Andreas to be very pleasant, gracious, friendly, and sincere. I feel very close to the man and his music. There is some type of spiritual connection. I cannot describe or define this very well I just know that it exists. My birthday is October 3rd and his is October 4th. Maybe that has something to do with it.
I still try to listen to Vollenweider music every day. I regard it as the powerful, positive musical force on the planet! Anyway, that's some stuff Vollenweider and me...
---
Impressions of the U.S. Tour 1995
Andreas Vollenweider In Concert in Cleveland, OH and Columbus, OH
Written by Bill Slater, November 1995
Last week I attended two Andreas Vollenweider concerts in Cleveland (10/24/95) and Columbus (10/25/95), which were part of the 14 performances of his 1995 «mini-tour» in the U.S. It was the first time Vollenweider had been back performing in the U.S. since his Spring 1994 tour. Joining him were Walter Keiser, Mindy Jostyn, and Eberhard Hahn. Walter plays drums and percussion. Mindy plays violin, guitars, mandolin, keyboards, accordion, harmonica, percussion, and sings. Eberhard plays wind instruments, accordion, keyboards, percussion, and sings. And of course, Andreas plays harps, string and wind instruments, guitars, and sings. Each of these musicians are masters of their craft in their own right.
Everyone gave excellent performances during all the songs. Somehow Andreas manages to outdo himself for every tour. It is obvious that in addition to the passion he has for composing and arranging his music, he loves to perform for live audiences and he told the audience that he hopes to do it more. (Note that Andreas did not tour the U.S. after his '89­'90 tour, until Spring '94, a long hiatus from American audiences!) Some of the songswhich were played included tracks from Caverna Magica, White Winds, Down to the Moon, Dancing with the Lion, Book of Roses, and Eolian Minstrel. Everytrack had its own «live flavor» with a different, but recognizable arrangement from the original recording. Andreas told one audience that he enjoys performing his compositions differently in a live venue, because to do differently would be boring and a waste of people's time. Andreas explained to the audiences that his present album project is late,but that he wanted to take a break from work in the studio to go on tour.The album is expected to be released in Spring '96. Andreas and his bandare enroute to South America after they complete their U.S. mini-tour, andafter South America, they head for Asia (Southeast Asia), and then back to finish the album.
Andreas played a few new original compositions, and one solo harp piecewhich was probably the most complex and moving harp piece I have ever heard anywhere. In «Book of Roses», he looked very at home playing a beautiful,custom-made wooden electric guitar and though most of the time he played harp and sang, Andreas also played a Japanese koto during one piece fromCaverna Magica. Walter Keiser must be the greatest and most versatile drummer working today. Vollenweider music is so complex and diverse, that it takes a special drummer to keep up with Andreas. Walter is always introduced as «the heartbeat of this music from its very beginning», and indeed he is. One highlight of Walter's perfomance was when he played avery intricate drum solo which lasted about 8 ­10 minutes during the «Dancing with the Lion» piece. It really showed off his abilities well. Eberhard Hahn is a master of everything he picks up, which includes flutes,saxophones, piccolos, accordion, panpipes, and the Australian aboriginal didgeridoo. Eberhard plays several of the complicated wind arrangements in Vollenweider music where wind instruments are required. He and Mindy Jostyn played in center stage, to fill in between the driving power of Andreas' harp and Walter's drums.
Mindy Jostyn, a New Yorker, is the finest female musician I have ever seen perform, and one of the finest musicians I have ever seen. I was totally amazed with this woman's talent. She too, is a master of everything she plays. Highlights of her performance included an excellent jazz / rock / blues violin solo during Andreas' «Flight Feet and Root Hands» track from his White Winds album (she played her violin like a mandolin during that wholesong!), and a very jazz/blues harmonica solo during » Dancing with the Lion», in which she spent a fair amount of time playfully interacting with the drummer, Walter Keiser. In fact, Mindy fits into the band as if she has been there during the entire time that Andreas has been performing sincethe early '80s. She really seems to enjoy playing with these guys, and her performances added a lot musically as well as visually to the concert. Shereally understands Vollenweider music and clearly gets into it as she is playing with the band. After one of the concerts, I told both Andreas and Walter that they should keep her in the band permanently. By the way she has her own CD which has just been released and should be in the stores soon. If her performances with Andreas were any indication, this should bean excellent CD. And in keeping up with the electronic times we are living in, Mindy has her own home page on the WWW.
Each concert concluded with a wonderful version of «The Glass Hall» from the White Winds album (my personal favorite!), followed by an encore piece where they actually formed up in a single file parade, and played instruments while strolling through the audience from one side to theother. It was a special moment in both concerts, and left the audiences with a lasting impression of this wonderful band who not only loves to perform, but likes to get close to their audiences. How could you not love these musicians after seeing such magnificent performances?
---
Intitial Impressions of Book of Roses
Book of Roses

Written by Bill Slater, February 1992
Andreas Vollenweider has a new album out. It was long awaited because his last album came out in April 1989. This album, "Book Of Roses", is one that has to grow on you. It really takes some getting used to. It doesn't have the full flowing textures of past albums such as "Caverna Magica" or "White Winds". There are lots of sound effects and there are even some things you would never expect on a Vollenweider album: orchestral arrangements; African folk singing with clapping and three-part harmony; Spanish-style, classical guitar for Flamenco dancers; classical grand piano pieces; and Gregorian-style male vocal chants. But then there's the very powerful portions and the gentle, delicate portions that are so hypnotic in nature that you can listen to them over and over, the ones that show you where he's really at now with his musical and personal development. All this is spiced up by his special sound effects such as rubbing on rough surfaces, knocking sounds, steel balls rolling, pages turning (as if he is saying "I am showing all this to you in this big magical Book of Roses!"), dogs barking, birds singing. In a real sense, it feels like being in a special "mind movie". Even the liner notes CD says in the outside cover that "Book of Roses" is 16 "episodes" (which are the musical pieces) in four chapters. And in true Vollenweider fashion, all the songs blend together so as to make it a continuous feature. The hardest part to get used to is the shrill, high pitched vocal, where when one of the vocalists gets wild and lets it all go.
However, in considering where Vollenweider has been musically on is other albums, it is probably very consistent with where he seems to be going with his music. It is a very different album than anything that he's ever done. I would not recommend it to get a person introduced intoVollenweider music, but it's definitely worth buying if you have one or two of his other albums.
"Book Of Roses" is in its own right, it is a great album. I have been a big fan of his since I was first introduced to his music in 1985. In many ways I consider all the times I have spent listening to his music to be life changing experiences. There is a soul-healing, mystical, magical quality to all of his albums. The music that Vollenweider creates emanates from the soul of an extraordinary, creative human being. I am ever thankful for his gifts of music to the world and for his gentle spirit.
---
Notes on Dancing with the Lion
Dancing with the Lion

Written By Bill Slater, July 1991
The Dancing With The Lion album is a concept album which deals with the idea that this Life is a stopping point for our Soul's travels through the cosmos. Even the painting on the "album" cover depicts this. The lower part of picture is the Soul's path coming in from the unknown, and as the "line" or path enters the "circle", this symbolizes the Life, this Reality, as we know it here. The "squiggly line" inside the circle represents the "Dancing With The Lion" that our Soul must do while we are here in this Life. As we come to the end of this Life, the Soul has progressed in its journey, and so exits the "Circle" through the top. This of course, represents Death, and the departing of the Soul from this Life, back out into the unknown.
Now, examine the titles of the songs on the album. The first song, "Unto the Burning Circle" symbolizes the Soul's birth into this Life. There is even a chanting-like "cry" a few times in the song which ties in nicely with the dramatic feelings that the music evokes. Next is the title cut, "Dancing With The Lion", which sets the stage for the magic and the intensity of the entire album, and perhaps, Vollenweider's impressions of what it's like to "Dance With The Lion" and do the Soul dance of being in this Life. The album goes through several more interesting cuts, including "Pearls and Tears", which he describes as symbolizing the beauty that can come from experiencing feelings of sorrow and pain (i.e. the pearl is actually the result of the oyster's reaction to a grain of sand is to secrete fluids (tears)which result in a pearl being formed). At the conclusion of the album is a cut called "Ascent From The Circle", this represents the transition (Death) of our Soul out of this Life, this Reality, back out into the Unknown. This cut is one of the most dramatic pieces of music that I've ever heard. Immediately before this piece are some strange sound effects which tend to really fighten the listener the first couple of times he/she hears it. I think these sounds were placed on the album to contrast our traditional view of Death (being a frightening, scary thing) with the grand beginning that it really is. I think Vollenweider's following these "frightening sounds" with the piece, "Ascent From The Circle" is his way of depicting that it is a resumption of or Soul back on its magnificent journey through the cosmos. I think the beautiful flute notes that immediately precede the "Ascent From The Circle" piece, are Vollenweider's way of saying, "Hey! Something really WONDERFUL and MAGICAL is about to happen!", and so this is the transition of our Soul back out into the Unknown.
One must also understand that Vollenweider's view of music is fairly different from most people's traditional views. What may sound like strange noises or sound effects to the listener, are actually important parts of a musical piece to Vollenweider. One of the fellow musicians of the Dancing With The Lion album, Louis Perez, is a Mezo-American percussionist, who plays over 350 instruments (his regular job is being the percussionist for Hyacultiaya, an LA-based, Mezo-American New Age Band). Vollenweider, used his talents extensively on the album. Also, if any of you attended the '89 - '90 World Tour, each performance was actually preceded with about 20 minutes of recorded sound effects from Mr. Perez. (I think).The way I see it, Vollenweider was actually getting the music going at the point where the recording began. He was setting the stage for his entrance and continuation of the music. Understanding that Vollenweider uses sounds in this way as part of his music, makes these sounds that precede the "Ascent From The Circle" piece, as little less disturbing.
Some of the above commentary is based on the write up in the '89-'90 tour book, some of it is based on the myriad of hours of personal experience I have had listening to his music, some of it is based on my correspondence with Vollenweider, and some of it is based on my discussions with some of the people in his American management office.
I hope this will give the "Dancing With The Lion" album a little more meaning when some of you listen to it. Understanding in this way has helped me enjoy it even more than I did when I first bought it about two years ago.
---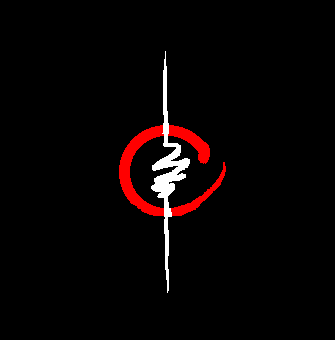 Dancing with the Lion
Andreas Vollenweider, 1989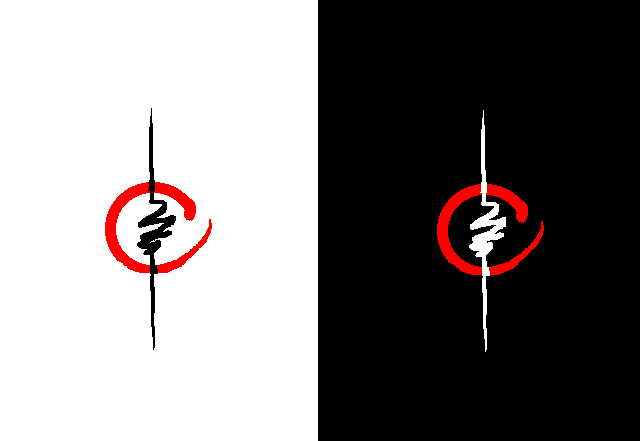 (My Versions, done using PC Paintbrush)
---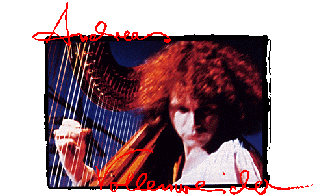 A Photo of Andreas in Action in 1986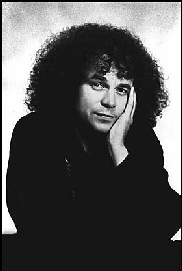 Thank you for visiting my Andreas Vollenweider Page!

---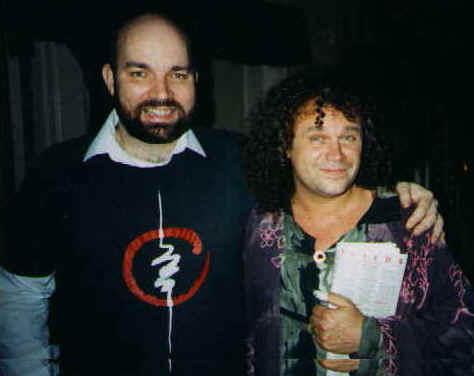 Andreas and me in Cleveland, March 1994 while he was the Aoelian Minstrel concert tour.
---
Are You a Fan of Andreas Vollenweider's Music? E-Mail me and Let's Talk!

---
Last Updated on Tuesday, January 21, 2020
William F. Slater, III
---

---