---
Andreas Vollenweider Announcements
Ryan Taliercio's Andreas Vollenweider Website
The Official Andreas Vollenweider Website
Bill Slater's Andreas Vollenweider Page
---
The Kryptos CD
Originally released in Europe in March 1997, the American release of Kryptos will be September 16, 1998. Read about Kryptos at Andreas Vollenweider's official website. Read about Kryptos at Ryan Taliercio's website.
I love this CD and I highly recommend it. I have had it since March 1997 and I think it is one of the best he has done. I rank it right up there with Caverna Magica, White Winds, and Book of Roses! Treat yourself and get this CD.
---
The 1998 Andreas Vollenweider U.S. Tour
As you are aware, these concerts sell out pretty fast, and one of my concepts of Hell is being on the outside of a building where Andreas Vollenweider is playing a wonderful concert, with no hope of getting in to get a seat and experience it. Don't waste time. Get your tickets now.
I discovered this additional specific information via TicketMaster (search on Andreas Vollenweider) on the web for Boston and Chicago.
(note: this is a screen shot picture from http://www.ticketmaster.com --
the hyperlinks in this picture do not work)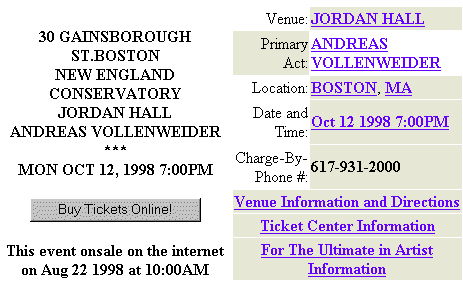 The Boston Performance
(note: this is a screen shot picture from http://www.ticketmaster.com --
the hyperlinks in this picture do not work)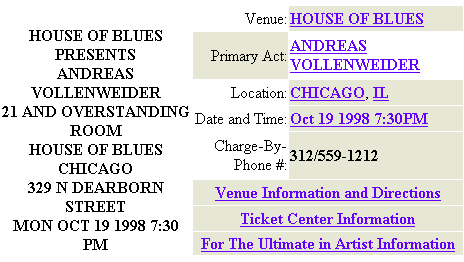 The Chicago Performance
---
Return to Bill Slater's Andreas Vollenweider Page
Visit Ryan Taliercio's Andreas Vollenweider Website
Visit the Official Andreas Vollenweider Website
Return to http://billslater.com
---
Copyright © 1998, Slater Technologies. All rights reserved.
Revised: September 06, 1998.
Bill Slater, Webmaster