Windows 98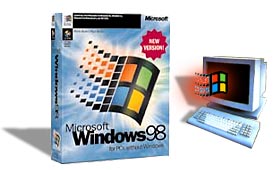 This page contains are some of my initial impressions of and experiences with Windows 98.
Bottom Line: Windows 98 is a Better Windows 95 than Windows 95 was!!!
---

---
I bought and installed Windows 98 on June 25, 1998. I also bought and installed both Windows 98 Plus! and the Windows 98 Resource Kit. I found the installations and setup to be very simple. So far, I really like it all. The only drawback is that you need about 195 MB of free disk space to install it. The machine I installed it on was an HP Pavillion 8160, with a Pentium 233 MHz MMX and 32 MB or RAM. I have a 6 GB disk in this baby, so there was plenty of free room. Anyway, I really like Windows 98. It seems to be a LOT better than Windows 95.
Return to Contents Go to Bill Slater's Home Page
By the way, Microsoft named their Windows 98 Web Guide Team, "Project Elvis". I was just notified about this via e-mail. Of course I e-mailed them right back and told them about my Elvis Shrine Site. This is the largest Elvis presentation in the world on the web.
Return to Contents Go to Bill Slater's Home Page
Some manufacturers are saying you may have to wait till they provide BIOS upgrades, etc. or else there could be problems. Click here to read this article.
Return to Contents Go to Bill Slater's Home Page
Windows 98 will delete your MS Internet Explorer 3.0x browser. Better get used to the idea of web surfing with an MS I.E. 4.0x browser, because that's what you are forced to live with in Windows 98.

If you are using Internet Explorer Internet Mail, Windows 98 replaces it with Outlook Express. In addition, the ONLY folders which get cleanly imported for using Outlook Express are: Inbox, Sent Items, Deleted, and Outbox. Everything else gets left behind, making you feel like you paid a penalty for being organized. The solution, I discovered on Tuesday, June 30, 1998: Get a full copy of Outlook 98, and it will import your older Internet Mail folders for you automatically. If you don't have time to download Outlook 98 from http://www.microsoft.com, then buy the MS Press book named, Running Outlook 98, by Alan Neibauer. That book has a CD ROM in it which contains the Outlook 98 program, in addition to IE 4.01 and NT 4.0 SP3. Also, I recommend keeping these folders under a directory structure such as C:\SMITH\MAIL, because that makes it easier to back them up with the rest of your data directories.

You'll need a lot of memory (RAM). Windows 98 runs slow, but acceptably on my Compaq Armada Laptop. This laptop has 24 MB or RAM and a Pentium 100 MHz CPU. I like running Windows 98 on the laptop because I find it more reliable than Windows 95 and because of the space saving advantages of having a FAT32 file system over FAT16 file system. It's true FAT32 is better than FAT16 in the way in allocates and manages disk space. But beware, if you are running a Windows 9x / Windows NT multi-boot setup, stay away from FAT32, because NT doesn't have the file system drivers to be able to use FAT32 volumes on the same workstation. In any case. I recommend a minimum of 32 MB of RAM for your Windows 98 machines.
Return to Contents Go to Bill Slater's Home Page
Curious about going to Windows NT or Windows 98 for your desktops? Here's a Microsoft white paper to help you make an informed decision. NT or 98? If you want LOTS more information on Windows NT operating systems (both NT Workstation and NT Server), please visit the Windows NT SIG Page which is also on this website.
Return to Contents Go to Bill Slater's Home Page
Frank Condron's World of Windows Page is probably the best Windows Support Page outside of Microsoft. Check him out at http://www.conitech.com/windows/win98.asp In fact, add his page to your Bookmark List or Favorites, depending on the browser you use. Everything to do with Frank Condron's World of Windows is first class.
Return to Contents Go to Bill Slater's Home Page
---
These features are according to industry magazine articles and Microsoft's press releases and web site: (this list was borrowed from Frank Condron's Website, from his Windows 98 page.
Windows 98 Features:
Internet Explorer 4.0: merged with the operating system, making the desktop active.
Multi Monitor Support: Allows two or more monitors/video cards to be connected, and all be part of the desktop.
USB & FireWire Support: Universal Serial Bus and 1394 IEEE high-speed interfaces
DVD: Digital Video/Versatile Disk support, the successor to CD-ROMs
OnNow ACPI: Advanced Configuration & Power Interface to allow systems to seem to turn on instantly, and save power (especially on laptops)
Web-based Updates: automatically update your system via the internet
Backup Enhancements: a much more feature-rich backup program, written by Seagate Software.
FAT32: Originally only available with the OSR2 version of Windows 95, FAT32 will now be part of Windows 98, including a utility to allow current FAT drives to be converted to FAT32.
Faster: Startup, Shutdown, and loading of applications will be much faster than today.
Zero Administration: Designed to allow corporations to easily administer desktop computers.
Windows 3.1 Migration: For those still using Windows 3.x, tools will be included with Windows 98 to ease migrating.
WebTV: Support for various TV-tuner cards (such as ATI's All-In-Wonder).
Troubleshooting Wizards: Troubleshooting Wizards included in Windows 98 address the following areas: Network, Modem, Startup Shutdown, Print, DriveSpace 3, Memory, MS-DOS Programs, Display, DirectX, Sound, The Microsoft Network, Hardware Conflict, Dial-Up Networking, Direct Cable Connection, and PC Card
Setup Enhancements: A streamlined setup system makes installation of Windows 98 much easier
Maintenance Wizard: An automatic scheduler that runs defrags, scandisk, and other routine tasks automatically.
Remote Access Server: RAS, previously only available in the Plus 95 pack, is included in Windows 98. This allows a Windows 98 system to act as a dial-in server.
Display Enhancements: Also previously only available in the Plus Pack, Windows 98 includes font smoothing, full window drag, and other display enhancements.
PC Card Enhancements: Support for PC Card32, 3.3volt PC Cards, and multi-function PC Cards.
Microsoft maintains a few pages of information about Windows 98 on their web site.
Return to Contents Go to Bill Slater's Home Page
---
Bravo Microsoft! I love Windows 98 and it is obvious that Windows 98 was created for me. The Code Name of Windows 98 was "Memphis". And I was born and raised in Memphis. Memphis is famous for things like the Blues, Barbeque, and Elvis. And since I love Memphis and each of those things, I feel like Microsoft did this one for me. And just in case you STILL aren't convinced, consider this. Bill Gates and I have the same first names, both legal (William) and nickname (Bill), Bill Gates and I are both major computer nerds, and finally, Bill Gates and I were born the same month, of the same year -- October 1955. My birthday is October 3, 1955 and his birthday is October 28, 1955. That makes us 25 days and only $62 Billion apart. Like I said earlier, there HAS to be a connection...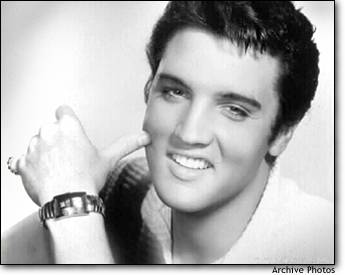 Elvis Aron Presley
I hope you enjoy Windows 98. After nearly three years of troubleshooting and fighting with Windows 95, I know I am going to.
Thanks for reading my Windows 98 page!
Return to Contents Go to Bill Slater's Home Page

E-Mail me. I love to get e-mail.
Bill Slater
Return to Contents Go to Bill Slater's Home Page

---
Credits:
The Windows 98 picture at the top was borrowed from http://cnn.com, the best new site on the Web.
Windows 95 and Windows 98 is a trademark of Microsoft Corporation
Elvis Presley is a trademark of Elvis Presley Enterprises, Memphis, TN
---
Last Updated on September 6, 1998
By Bill Slater, Webmaster

Return to Contents Go to Bill Slater's Home Page