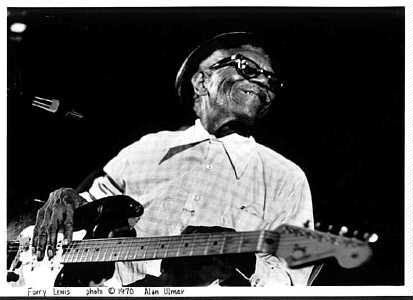 A Tribute to
Bluesman Walter "Furry" Lewis
Most people don't realize this, but Memphis (not Chicago) is regarded as the birthplace of the Blues. There on Beale Street, near the Mississippi River bluff, the blues became refined and acceptable. Later, the Blues migrated north to Chicago and south to New Orleans. While I lived in Memphis, I became personally acquainted with a real honest to God Bluesman.

When I was in college ('73 - '77), I used to hang out in Memphis with country-blues guitarist bluesman Walter E. "Furry" Lewis. I used to go to his shows and occasionally play washboard with him. (He even called me "Washboard" because he could never remember my name.) Besides being a "natural bluesman" and a musical genious in his own right, one of Furry's claims to fame was that he had played with fellow Memphian W.C. Handy, who is widely considered as the "Father of the Blues".

Furry was famous for his ability to sing and play acoustic guitar with a bottleneck slide. Joni Mitchell came and interviewed him, then wrote a song later about him called, "Furry Sings the Blues". She recorded that in 1977 or 1978, and it made Furry mad because he felt that he should have been entitled to some kind of payment or royalties for that song. In 1976, when the Rolling Stones toured in Memphis, they had Furry do the opening set before a crowd of 53,000 people.

Overseas, Furry was an even bigger legend than in the States. One in Sweden, he played before a crowd of 70,000 people. They had an advance hype build up for him and everyone was wearing buttons that said, "Furry's Coming". He gave me one of the extras that he had.

When the Rolling Stones came to Memphis in 1975, they asked Furry to be the opening act and he performed for them and a sell-out crowd at Memphis' Memorial Stadium.

If you ever heard the Lynyrd Skynyrd song, "The Ballad Of Curtis Loew", the person they describe in that song was very much what Furry was like. I used to visit Furry in his modest duplex at 811 Mosby Street in Memphis (in the ghetto). I would bring him a fifth of Jack Daniels Black Label, and he'd play for three hours or so from his bed. Furry was always in bed when you'd go visit him at home.

Furry died in 1981, after a fire in his duplex and the sudden displacement that followed. It caused him to catch pneumonia. He was about 88 when he died.

Below are a few lines from Furry's songs:
From: Casey Jones:
I got it written in the back of my shirt, I'm a natural-born East-Man I don't have to work.
From: I Will Turn Your Money Green:
If you follow me baby, I will turn your money green I'll show you more money, than Rockefeller ever seen.
From: Judge Boushee Blues
Good Morning, Judge.

What will be my fine?

Good Morning, Judge.

What will be my fine?

He said I'm glad I got to see you,

That'll be a dollar forty-nine.

Video: http://www.youtube.com/watch?v=EKxyqNejgHw
From : Lay My Burden Down
No more crying, or tribulation

When I lay my burden down

All my sorrows, will be over,

When I lay my burden down,

I'm going home to be with my Jesus,

When I lay my burden down.
Click here to see and hear Furry Lewis play this blues masterpiece: When I Lay My Burden Down
Other Furry Lewis Links and Videos, Courtesy of Fellow Furry Fan, my friend Daniel Chlipala
http://myspace.com/walter_furry_lewis

http://www.youtube.com/view_play_list?p=8D19E44050B0D4F0

http://www.youtube.com/results?search_query=furry+lewis+blues&search_type= 

http://youtube.com/chlipala
My Favorite Furry Toast:
"You know, I promised the Lord that I'd never take another drink, unless it it was by myself or with somebody."
Furry Appeared on the Tonight Show with Johnny Carson in the Mid-1970s.
When asked about why we was still single, Furry surprised everyone with this reply:
"Tell me, why in the heck do I need a wife when the man next door got one?"
Furry's Favorite Toast
What he used to say when I would bring him over a fifth of Jack Daniels so he would play for us:

"You know, I promised the Lord that I would never take another drink,
Unless it was by myself, or with somebody!"
How Furry Ended Up
In a simple grave in a black folks cemetery in Memphis, lies the worn out body of a simple, but famous bluesman. His headstone is shown below:


Photo by Dorian Henry
I loved this Bluesman. He was walking, talking, singing, smiling, jive talking American musical history. Larger than life, and there for the taking and absorbing. Sometimes, I look back on my college days, and I think Furry was the best thing in my life during those years...
God rest his musical soul. I hope he's up there in Heaven where he'll never have to hock his guitar, or break any guitar strings again.
-///-
By Bill Slater
E-Mail Me: slater@xsite.net

Written in January 1992, Colorado Springs, CO

Published in Delta Snake Blues, December 1997.

Delta Snake Blues is a Web-based Blues Magazine dedicated to the preservation of all things connected with the Blues. The Blues was born in Down South and continues to thrive in the United States of America and throughout the far reaches of the planet.